Shopping Cart
Your Cart is Empty
There was an error with PayPal
Click here to try again
Thank you for your business!
You should be receiving an order confirmation from Paypal shortly.
Exit Shopping Cart
I love any race car whose last name is "Special"
| | |
| --- | --- |
| Posted on November 21, 2009 at 10:59 AM | |
FINAL UPDATE 1 Dec 09  11:45 AM
  Tom Malloy is the winning bidder for the NOVI parts. This is a good news!  Tom is major collector in Cal. and he owns one of the few complete NOVI cars, in running condition, the original 1941 Winfield/ Miller chassis  Tom also owns Ed Pink Engines so he has the capability to do something useful with these parts.
----------------------------------------------------------------------------------------------------------------------------------------------------  
UPDATE: 30 Nov 09    11:30 AM
   The NOVI auction has just finished with the winning bid of $68,800.  I don't know who it is, due to the coded bids, but I will keep my ears and eyes open for info. It will come out sooner or later.
-----------------------------------------------------------------------------------------------------------------------------------------------------
On Nov 20 2009, Item #120495759944 was posted on ebay. If not a "holy grail" level discovery, it is, at least, a very significant cache of valuable historic parts……
  I became aware of these parts on August 20 2009 and made a play for them at that time. I almost got them.    
    Now that these parts are out of the closet, I can tell the story of how a little guy came close to winning one…
  It looks like the results will be purty much as I predicted in my story.
I believe that these parts came as part of a deal, made by the NOVI museum, to acquire the FWD Ferguson NOVI car from Andy Granatelli, sometime in the early 70s. The museum was, mainly, interested in the car, for their display, and, probably, had no room to store the parts. The parts got stashed in the city garage and became part of the "woodwork". I doubt that there is anyone at the museum or the city garage who was around when the original deal came about, so we my never know the whole story.
The Ultimate "Fish" Story    by mac miller
All my life, I have listened to anglers tell their stories about the big one that got away. Today, I have a story as unbelievable as any of them. The big difference is that I have the pictures and documents.
My story starts last Thursday(20Aug09) when I received an anonymous e-mail from a guy, telling me of his employer selling some old race engine parts. The e-mailer also got my telephone number from my website and left a message, to call him if I was interested. I was finally able to contact him on Monday(23Aug09), and the guy told me that he works for the Michigan Dept. of Public Works and that they were clearing some space in one of their truck service garages and were putting a large amount, probably a semi load, of old race engine parts on the government surplus equipment auction website. He said that the stuff had been stored and ignored in the building for over thirty years.
     He directed me to a very obscure website called the Michigan Inter-governmental Trade Network. Basically, an online auction site where all municipal and state agencies list their surplus items for public "on line" auction. This site contains hundreds of listings, including many cars and trucks, office equipment, machinery, highway barriers etc.
    Buried in the middle of these listings was an item called "1964/65 NOVI SPECIAL ENGINE PARTS". I clicked on this item and was amazed by three pages of inventory lists and four unbelievable pictures. This was certainly the most incredible cache of historically significant parts, I had ever seen.
    I, immediately, registered on the site, as a bidder, and made copies of the inventory sheets and the photos.
   I took all this information to a trusted friend, who has insight and experience in "high end" vintage cars and parts, for his analysis of what I had found. A raised eyebrow on his part indicated, to me, that I might be onto something.
    After studying the info and pix, my friend offered to get involved and made it possible to enter a bid. Also, it was his opinion that these were unknown and undiscovered parts because, in his 30 plus years of involvement, he had never heard any top level discussion or rumors of the existence of such a large quantity of NOVI parts.
   Time was short, as the auction was scheduled to end at 11:15AM on Wed. 26Aug09. At the time we placed our bid, on Mon 23Aug, there was only one other bidder, whose bid was just above minimum. Our bid was the new top bid plus a substantial reserve to counter any challenge. We were in the game, the time clock was ticking and the anticipation was starting to build.
   The rules of the auction stated that the winner had 7 days to pick up the "stuff" in person and must move the load without assistance from any state employees or equipment, so Tues 24Aug was spent arranging transport and local storage, in the event that we prevailed in the auction. The location of the pickup from Indy is a long one day round trip so that is not a serious problem. The shear size and weight of the numerous crates and pallets was going to present a more serious challenge, It would require a semi size truck with lift gate capabilities or multiple trips with a smaller truck and trailer. Loading was going to require some sort of forklift or pallet lift.
Throughout the day, I continued to monitor the auction and our original bid continued to be the high bid. Anticipation continued to build…… Was the other bidder capable of upping his bid??? Were there other potential bidders lurking, waiting until a final bidding flurry, close to the auction deadline??? Were our reserve funds enough to counter any last minute challengers???
Unfortunately, we will never know….
    As I attempted to check the auction status at 5:00PM on Tues. 24Aug, my screen came up blank. Everything I tried resulted in a blank screen for that auction. I made a call to the auction information line and was told that the NOVI auction had been canceled without further information. As soon as I hung up I received an official e-mail informing me that the auction had been pulled.
     This auction was, obviously, initiated by the people in the truck garage, who were trying to clear some more floor space. These guys had no knowledge of the significance or value of these old parts nor did they care. All they knew was that this "stuff" was taking up a lot of needed floor space and had no obvious use in the operation of their truck garage.  They contacted the appropriate, and equally unknowledgable, government bureaucrats, assigned to the disposition of such unneeded property, who placed it as an obscure listing on their auction list.
  This perfect set of circumstances created a very rare opportunity for, even, a "regular guy", with a little luck, to score a big deal.
  Further inquiry revealed that the auction was canceled at the suggestion of a former city official, with some knowledge of the significance of these parts. He, somehow, found out about this auction and had it pulled for "reevaluation" He was within a few hours of being too late.
   Of course , we all know what "reevaluation" means. If these parts ever show up, again, as an auction, it will be well publicized throughout the collector car world and the reserve prices and starting bids will be beyond the reach of all but a few of the titans of the business.
  The other possible result of the "reevaluation" could be a private "under the table" transaction to one of the said titans, who would then be lauded for his great discovery.
     Did we have a realistic shot at these parts??       Our opinion is "yes".
As stated earlier, in 30+ years, there has absolutely never been any "buzz" or speculation, whatsoever, at any level of the collector car biz concerning the existence of these parts. They were listed on a very obscure government website as a line item in a very mundane auction. It is our opinion that this auction went unnoticed and these parts were unknown to the high level collectors. Obviously that will no longer be the case.
Make no mistake about the significance of this discovery. This could be one of the biggest automotive archaelogical finds of the last 30 or 40 years. It will be most interesting to see how, when, where and with whom these parts eventually surface,
In retrospect, losing the auction to another bidder is an acceptable conclusion, but to have the seller "chicken out" towards the end leaves kind of a bitter attitude. Even though this deal came to a very unsatisfactory conclusion and certainly not in our favor, I wouldn't trade a minute of the excitement, anticipation and drama of the last few days, for anything. This little adventure had it all …… anonymous information, hidden treasure, secrecy, drama and a surprise ending.
Had we pulled off this deal, we would not only have had the satisfaction and value of acquiring these parts, but, there is also a certain notoriety, celebrity and credibility that everyone likes to have among their peers.
At the end of the day, about all that is left to say is "The little guys came very close to winning one!"
mac miller in INDY
PARTS INCLUDE:
Quantity Description
5 ENGINE BLOCKS
25 CRANK SHAFTS
10 CYL. HEADS
24 CONNECTING RODS
5 PALLETS OF WOODEN PATTENS PLUS 3 LOSSE LARGE PATTERNS
1 PAXTON SUPERCHARGER COMPLEAT
44 PAXTON SUPERCHARGER PLATES UNMACHINED
2 DUEL MAGNETOS
1 DISTRIBUTOR HOUSING
3 SINGLE MAGNETOS
6 IGNITION WIRE LOOMS
4 MALLORY COIL PACKS
2 BENDIX MAGNETO VIBRATORS
1 BOX MIXED IGNITION WIRES
2 IGNITION BALLAST RESISTORS
1 HIGH VOLTAGE IGNITION BALLAST
1 COMPLEAT MALLORY MAGNETO WITH BRACKET
1 STEEL FORGING DIE FOR FLYWHEELS BY PAXTON
1 SMALL BOX METAL CABLES AND SWIVEL BRACKETS
55 CYL. HEAD VALVES
21 REAR HOUSING FOR SUPERCHARGERS
2 BOXES OF SMALL GASKETS
1 SMALL BOX WATER JACKET PLATE COVERS
1 BOX SUPERCARGER INTAKE DUCT PARTS
1 ALL WHEEL DRIVE TRANS
1 TOP LOADER TRANS
1 SEVEN TRANS
3 FINE TOOTHED FLYWHEELS
1 COURSE TOOTHED FLYWHEEL
2 LARGE BOX OF ASSORTED SEALS AND ROLLER BEARINGS
2 WOODEN BOXES OF QUICK CHANGE GEARS
1 BOX ASSORTED STEEL GEARS
61 SUPERCHARGER SLEEVES
5 SUPERCHARGER CAPS
21 SPLINED SHAFTS WITH GEAR
USED CLUTCH DISC
2 USED CLUTCH DISC
1 CLUTCH PLATE
80 UNFINISHED PISTON BLANKS
60 NEW PISTONS
67 USED PISTONS
157 WRIST PINS
200 CONNECTING ROD BOLTS
1 BOX USED VALVE GUIDES
2 TRI INDUCTION INTAKE
1 SINGLE INDUCTION INTAKE
2 CAM SHAFT CRADLES
3 ROCKER COVERS
8 HALF SHAFTS
1 TORSION SHAFT
1 INPUT SHAFT
6 AXLE SHAFTS
2 VALVE COVERS FLAT
21 INTAKE ADAPTORS FOR AIR
1 CLUTCH SHAFT (PLUGED)
2 CV JOINT ASSY.
2 BRAKE ROTORS
9 BOXED OF ASORTED PISTON RINGS
1 LARGE WOODEN BOX OF ASSORTED PISTON RINGS
1 BOX CAM SHAFT CAPS AND HOLD DOWNS
16 CAM SHAFTS (NEW AND USED)
4 FUEL PUMPS
7 FUEL RAILS
1 HILBORN FUEL PUMP
5 KNOCK OFF SPINNERS FOR WHELLS
8 RUBBER BOOT COVERS PART # 2275514
5 YOKES
2 PITMAN ARM ASSY
VARIOUS CUPLERS AND BRACKETS FOR SUSPENION
91 MAIN ENGINE BEARINGS
LARGE AMOUNT OF NEW AND USED ROD BEARINGS
44 SUPERCHARGER PINION BEARINGS
3 SUPERCHARGER INPELLERS
55 BRASS ROD BUSHINGS
2 ALUMINUM CAST WATER INLETS
15 ALUMINUM SMALL IMPULSES
11 ALUMINUM SMALL IMPULSES
4 ALUMINUM MOUNTS
VARIOUS AMOUNTS AND TYPES OF INJECTORS, THROTTLE BODIES, FUEL FILTERS, LINES AND LINKAGE
SPARK PLUGS- 1 NT116-174 BOXES OF 10 1 NT115-85 BOXES OF 10 1 NR 153-21 BOXES OF 10 4 NT 326-59 BOXES OF 10 36 NR 170 BOXES OF 10 4 NR 154 BOXES OF 10 1 NR 164 BOXES OF 10 2 NRP 155 BOXES OF 10 3 N55T BOXES OF 10 1 N-18 BOX OF 10 2 N-T326X42 BOXES OF 10 3 L-T336 BOXES OF 10 3 N-T326-51 BOXES OF 10 2 N-R 166 BOXES OF 10 2 N-12-P150 BOXES OF 10 4 AG203 BOXES OF 10 129 W440T17
LOOSE PLUGS 200
WOODEN BOX OVER ASSORTED SPARK PLUGS ODDS AND ENDS TOOLS AND PARTS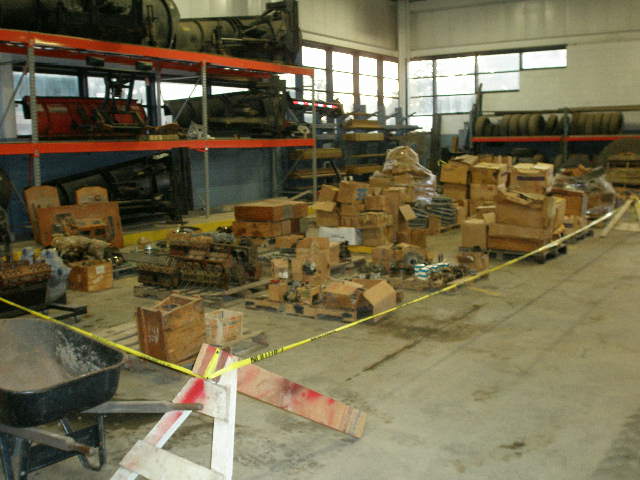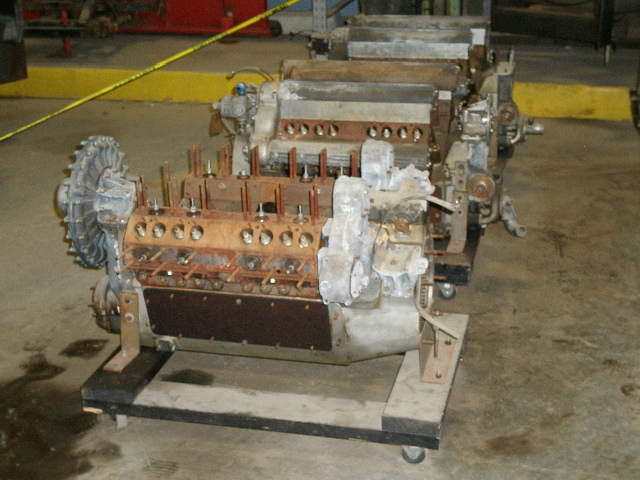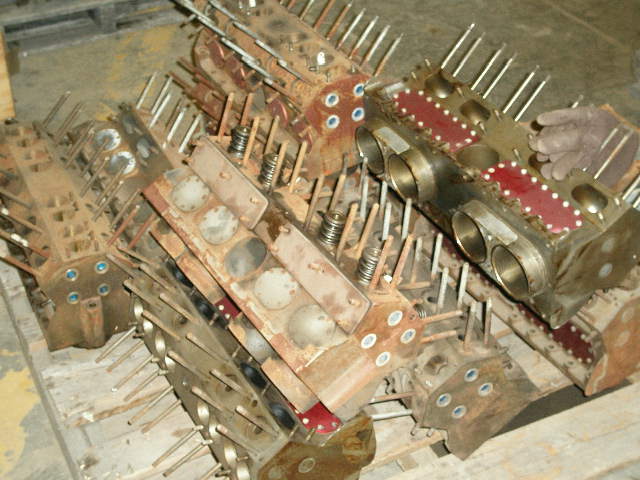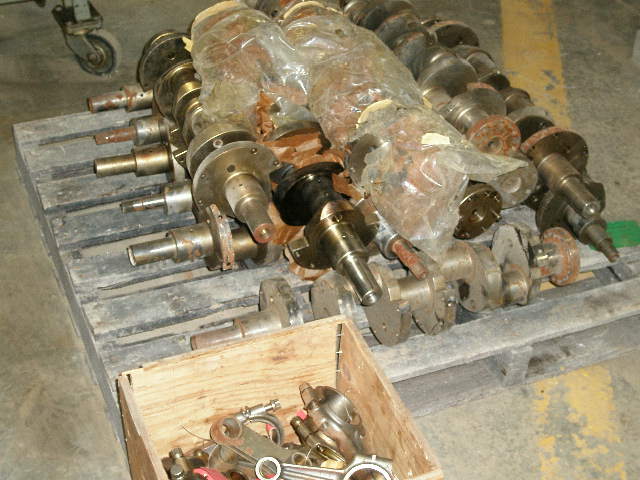 Categories: None
/